Bloom Elementary School
About Our School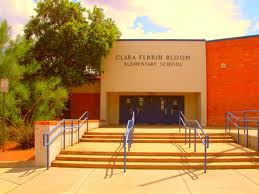 Located on the east side of Tucson, Bloom Elementary serves more than 300 students. Founded in 1973 and named after Clara Ferrin Bloom, a District 1 student at the end of the 19th century who later became a teacher and community activist. Clara Ferrin was born in Tucson on July 26, 1881. Her parents were immigrants from Frankfort, Germany. Clara was born at her parents home on the corner of Meyer Avenue and Cushing Street. She had a sister and brother and they all attended the old Congress Street School, which later became the location of the David Bloom & Sons Clothing Store from 1931-1968. Clara enrolled in the University of Arizona in 1893 and graduated in 1901. Clara was a school teacher at Safford Elementary for eleven years and married a local merchant, David W. Bloom on June 9, 1912.
Together Clara and David had three sons and two daughters. It was their son David A. and his wife Leona whose gift established the Bloom Southwest Jewish Archivesat the University of Arizona.
Clara managed to be very involved in the community. She was the oldest member of Temple Emanu-El when she died. She was a life member of the University of Arizona Alumni Association and a founding member of the Board of Directors of the Tucson Women's Symphony Association. Clara was a charter member of the Phi-Kappa-Phi. She was also a member of the National Council of Jewish Women and the Tucson Festival Society.
The Clara Ferrin Bloom Elementary School was built (located on East Pima Street in Tucson) in her honor and was completed a few weeks before her death on April 17, 1973.
School Mascot and Colors
A Student Handbook is given to each student at the beginning of each school year. Please read it with your student, sign page 3 and return it as soon as possible to your child's teacher. See the most current Guidelines for Student Rights & Responsibilities (GSRR) handbook!


What Makes Us Special
Bloom knows the importance of literacy and bi-literacy. We want our students to be successful in tomorrow's job markets. Bilingual skills are highly valued in the workplace, and the key to being bilingual is starting early. Bloom now offers Spanish immersion classes in Kindergarten through 5th grade.

Bloom Elementary has a strong focus on reading and writing through all subjects. The school uses the Daily 5 reading approach, which helps children develop reading stamina. The program allows for small-group instruction and individualized instruction.

Bloom uses the Engage NY/Eureka Math curriculum, which develops the habit of mind that mathematics is a tool to be used to solve many different types of problems. Bloom also works to help children build character, focusing on three areas: behavior, self-reflection and setting academic and personal goals.
TWBI (Two-Way Bilingual Immersion)

In August 2016, TUSD established its first Dual Language Immersion Program for the parents/families of the TUSD community. Bloom Elementary School was chosen as the east side location and was designed to provide students with high levels of language proficiency, academic achievement, bi-literacy, and cross-­cultural understanding.

It uses Spanish and English as the languages of instruction for both Spanish-speaking students who need to develop English fluency, as well as English-speaking students who will acquire Spanish as a second language.

The first cohort of students started as Kindergartners in 2016-2017. The program continues to expand at this site until the students complete their 5th grade year and continue on the TWBI pathway through middle school and high school. At graduation, they will receive the Arizona Seal of Bi-literacy.